Mobile Legends: Adventure mod 1.1.261 No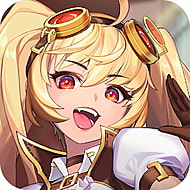 | | |
| --- | --- |
| App Name | Mobile Legends: Adventure |
| Genre | Role Playing |
| Developer | Moonton |
| Size | 143.4Mb |
| Latest Version | 1.1.261 |
| Mod info | No |
| Update | May 12, 2022 (1 weeks ago) |
Description of Mobile Legends: Adventure
Mobile Legends: Adventure is a role-playing game with an extremely attractive fighting style on mobile that is currently loved by millions of gamers. The content of the game revolves around the battle between brave heroes and ferocious monsters. With the feat in building and developing, the Moonton team has brought game lovers the most relaxing and satisfying moments. In Vietnam, the game is being loved by teenagers and they constantly download to the device for entertainment after a busy day.
Mobile Legends: Adventure game introduction
Mobile Legends: Adventure is a game with the cutest cartoon style of game publisher Moonton. With the implementation of fresh content combined with top-notch graphics, the gameplay will bring gamers to the most intense, dramatic and suspenseful battles.
Hero slaying monsters
When entertaining at Mobile Legends: Adventure, gamers will choose a male or female hero to incarnate and team up with all 5 members to destroy monsters. Epic, fierce battles will take place in each level with increasing challenges. In later levels, the boss of monsters is fierce and fierce, they carry weapons to fight back. To win, players must mobilize brave heroes, possess modern weapons and possess powerful martial arts or magic.
Diverse character system
Mobile Legends: Adventure owns a diverse character system with more than 60 different people. Each person will have different appearance and fighting skills. In addition to the main character, the secondary characters are all displayed as cards for gamers to unlock to serve the battle for survival.
Exciting game mode
Mobile Legends: Adventure has 3 attractive game modes for game lovers to choose from, including:
Campaign: This game mode has 25 levels, players must conquer each level to get the highest score.
Challenge: Player will conquer each level of the game version with different contexts including: Maze, Tower of Babel, Hell, Exploration... Each context has different difficulty for gamers to destroy monsters.
Arena: There are many different arenas such as: Arena of Fame, Classic, Roman, Modern ... for gamers to experience in destroying enemies.
Top notch graphics and sound
Mobile Legends: Adventure is built on a 3D graphics platform, designed in a cute and impressive cartoon style. The cast of characters is diverse, all of which are beautifully and carefully designed from the face, hair to costumes, in which the female warrior possesses a balanced appearance, three hot rings. Diverse game context, smooth transition so that players do not get bored. The highlight of this game is the brilliant light effect emitted from the weapon. The sound in the gameplay is resounded by the sound of weapons clashing, the character's footsteps and the shouting of the two sides when fighting.
Download Mobile Legends: Adventure Apk + Mod for Android for free
We provide Mobile Legends: Adventure Mod Apk game version and original version on Google Play. Choose the best file for your Android operating system. Our files are selected very safe and do not contain malicious links or viruses. Download now Mobile Legends: Adventure Apk and discover it now.!